Here at Fodder we've always been proud to be stocking to the best of Yorkshire, this philosophy spans across the shop, butchery, deli and cafe as a whole. So it should go without saying that one of our stand out, award winning products, our Fodder sausages, would go above and beyond our high standards. But we thought we'd tell you about it anyway!
Our Fodder farm shop boasts a fantastic, full service butchery department, when you pop in you'll always be greeted with a skilled and knowledgeable team as well as a welcome Yorkshire smile. All the meat on our counter is Yorkshire and we are happy to source all our pork from East Yorkshire based Anna's Happy Trotters, we have been for over nine years!
Anna is proud to keep the pigs on the land which has been specially chosen for keeping pigs on due to its' sandy, free draining land. Only 1-2% of pigs in the UK are produced in this completely free range manner, considered the highest standards of welfare. Why outdoor-reared, free range Yorkshire pork we asked? Well not only are the health and welfare standards higher, pigs were running all around as we visited, but it also gives a superior flavour and texture. Anna and her team have been recognised for their dedication to their rearing methods and highly accredited from Freedom Foods Association, Red Tractor Assured and Compassion in World Farming.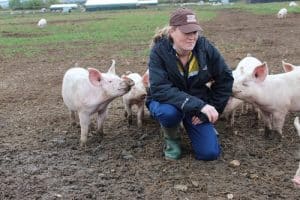 'It's hard work, but I love it'
The importance of responsible pig farming has been brought to light recently with the likes of Jamie Doherty highlighting some important industry issues.
Although the family has farming in their DNA, it wasn't always Anna's career plan. Her father strongly encouraged her to explore other options, going on to further education and travel but she says she 'always found my way back here' smiling warmly in her wellies. We think her life experiences and education has played an important role in her success.
Anna tells me how important her education has been in her pig farming career. There is a perception that farming is quite an old fashioned career, which simply isn't true anymore. A wide range of skills need to be called on daily – including maths, IT, human resources and a fair amount of common sense!
'You can't stand still in farming'
Head Butcher Ben and the butchery team make all our sausages in house, we stock a huge range of local and seasonally based sausages as well as some international favourites like fennel spiced Italian and Frenchie favourite Toulouse. Staff favourites include the caramelised onion and Abbots Gold and the pork and apple sausage, while the best seller and long time cafe staple our Fodder sausage.
This year for Sausage Week we're celebrating all things sausage! We're excitedly holding another Bangers & Beer Night which is due to be a sell out as well as our great value 3/£10 Butcher's Offer – three generously filled packs of our award winning sausages for £10. Limited edition flavours include spicy lamb, blue cheese, honey and mustard, Budapest banger and more!