Celebrating World Gin Day with Masons Gin!
Gin is currently experiencing a serious boom in popularity. An amazing 51 million bottles were sold in the UK in 2017, an increase of 27% from the previous year, with large yearly increases in the 10 years preceding. Companies like Yorkshire based Masons are at the heart of this revival, championing skilled artisan distilling methods, producing outstanding, award-winning products with Yorkshire provenance.
Mason's story is a simple one. Husband and wife team, Karl and Cathy Mason traditionally enjoyed a gin and tonic after work on a Friday, but throughout their vast experience of Friday night gin sampling (which they can now write off as market research!) they found themselves disappointed with the gins on offer. They felt they lacked a depth of flavour or any distinction to set them apart, so the couple began an exciting venture to craft their own gin.
Unfortunately, five years ago when the pair started, Yorkshire wasn't set up for gin distilling, and the now much loved tipple wasn't something the region was known for. So they brought their ideas down to a small distillery in Cambridge, spending hours of tasting, experimenting, and distilling… And managed to call it work! They soon perfected a polished gin they were proud to put their name to, 'Masons Original' was born.
Some of the Team at Fodder recently popped in to see Mason's, now based in Bedale, to help them celebrate World Gin Day and the company's 5th birthday, we met Steve and Leftie, their beautiful copper stills and sampled gin in ways we hadn't even thought of!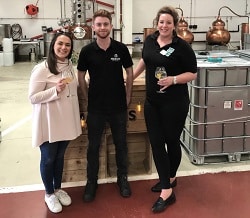 Now Masons, is the largest gin producer in Yorkshire and boasts a range of specialty gins, including lavender, tea infused, seasonal prickly pear and a special edition apple blossom gin which was crafted exclusively the Yorkshire Agricultural Society to celebrate the 160th show. Over 100,000 litres of perfectly refreshing Yorkshire gin will be crafted this year for the region and beyond, with the help of their lead distiller, Barry, an enthusiastic and skilled team and constant innovation we think Masons will con