J Stringers and Sons, Fodder's suppliers of organic porridge oats are a long-time customer favourite here in our Harrogate farm shop and café. And it is clear to see why!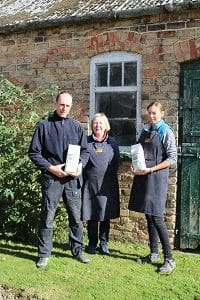 Third generation farmers, Mike and Kate are at the helm of the family farm on High Callis Wold on the top of the picturesque Yorkshire Wolds, with the fourth generation already gearing up for a takeover – their young son Sam is currently apprenticing on the farm. While Mum, Christine and Dad, Mark haven't retired just yet, and are still helping with packing and delivery, keeping the family business ticking over smoothly.
The family has always had a strong connection to conservation and the environment, then in 1999 the decision was made to transition the farm and arable land to organic and they haven't looked back since.
Mike tells us the plantings seem hardier, even surviving the epic late winter we experienced this year.
The oats are planted twice yearly in both the autumn and the spring with both being harvested in the August, hopefully under the Yorkshire sun, before being sent away to be processed and stabilised then returning to the farm to be economically packaged in their trademark paper packaging.
While it says 'porridge oats' on the bag, we think they are so much more! Traditional porridge is always a warming favourite for breakfast, we like it simple with creamy organic milk, a drizzle of Harrogate Honey and sliced seasonal fruit on top, just like we serve it in our cafe. But that's not to say so much more can be done with these wonderfully wholesome oats! They're great to add texture in baking, like this flapjack crumble or these super easy no bake cookies. If you're keen to keep your oats to breakfast, a bircher museli is a great make ahead breakfast to sustain you through even the busiest Yorkshire day!