This week we celebrate National Butcher's Week, and although we're happy to shout about our heavily awarded butchery department (the best butchers in the land) all year round, we thought we'd take this time to focus on our in house butchers in more detail!
Our head butcher, Ben, has been in the industry since he was just 14 years old, when he started working after school and on weekends in his village butcher's. Ben is one of our 'Fodder-lifers', he's been here since we opened and has worked his way up to Head Butcher in his over 8 years with us! He's seen us through developing new ranges and current trends, like ready meals and easy to cook meat, while still keeping his eye on those favoured TRADITIONAL cuts we all love! Ben leads our five-strong team of butchers, who range from veteran butchers and former chefs to butchers in training!
To celebrate we thought we'd give you a fun quick-fire round of our BEST BUTCHERY BRAGS:
SKILLED profession: When you buy from our counter, whether it's a fillet steak for a special dinner, a few sausages for a quick family tea or a rib of beef for a family roast, our team are checking everything before it goes out. They ensure you get nothing but the best and are happy to hand cut to order and always try to fulfil any request you may have. They'll be able to tell which cut is best, how to cook it and how much you'll need, with a smile!
EDUCATION: At Fodder we're keen to educate and ensure this profession lives on! We've had everything from young apprentices to late career changers. Our team is always keen on innovating and learning new techniques as well as honing those traditional time-honored skills.
Head Butcher BEN'S FAVOURITE Cut: Rolled pork loin.
Animal WELFARE: Our head butcher makes frequent trips to visit our local farmers, ensuring they are keeping up with Fodder's high standards. Many have been in the industry for generations and all take great pride in the care of their animals.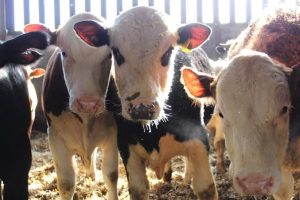 Best Seller: CHICKEN Kievs!
MADE in HOUSE: All our sausages, burgers, meatballs and more are all hand crafted right here in our Harrogate shop and tasted for flavor by the team! We have an extensive range, including our new smoky Joe parcels! So there's always something new to try!
Excellent VALUE for money: With all of this fantastic quality meat, many people think buying from a butcher is unaffordable! But that simply isn't true! We offer a fantastic 3/£10 deal which includes a variety of burgers, chicken, mince and sausage! We frequently price check ourselves against the big supermarkets, local farm shops and online grocers to see where we can improve… And our bacon, (which we think is some of the best you'll ever taste!) beats many supermarkets on price!
LOCAL, LOCAL, LOCAL! Our fantastic counter sells the finest meat, from the pork chops and chicken breasts to the tastiest fillet steaks, and the best bit? It's all 100% Yorkshire!
Company ETHOS: While we know all the above should be enough to have you running to Fodder, the final bit is a pretty sweet ending as well! We're a wholly owned subsidiary of the Yorkshire Agricultural Society, a charity focused on encouraging and supporting the agricultural community, and by educating future generations, ensuring the region continues to thrive. Any end of year profits made by Fodder go straight back to YAS! Want to know more on that? Read it all here!
We hope you're able to pop in soon and try it for yourself!